Reviews on The Hidden Millionaire
Below are some recent reviews sent to us by people who have read Anthony Morrison's book The Hidden Millionaire. We encourage you to send your review to us via email and let us know what you think about this highly motivating and inspiring book.
The book was absolutely amazing. I loved the story and really felt like I learned more from this book than anything I have ever read. Anthony's story is inspiring and very educational.
- Lynn E, New York NY
The book is a very informative and really gives an aspiring entrepreneur the tools necessary to be successful in today's market. Anthony's story is simply incredible.
- Wayne Thorpe, SPP
I loved the book. Anthony certainly lays out everything for you to get started with your entrepreneurial career. After reading this book I really feel I have the knowledge and drive to start my own business in 2009.
- Amanda P, Chicago IL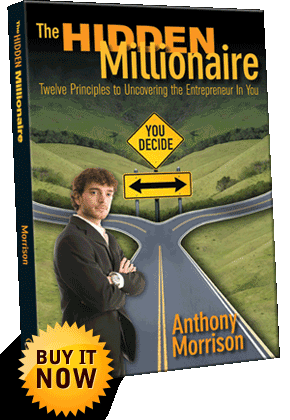 Anthony's book is not only inspiring but educational. The books was a great short read and I came away with a lot of valuable information.
- Jacqueline Yorke, Same Page Press