Buy The Hidden Millionaire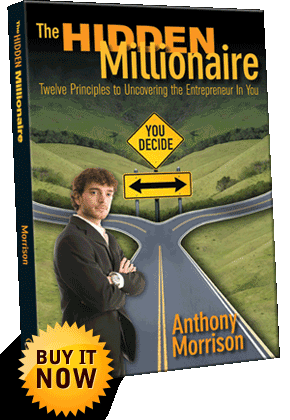 Anthony's book is not only inspiring but educational. The books was a great short read and I came away with a lot of valuable information.
- Jacqueline Yorke, Same Page Pres

Morrison Publishing is proud to announce the release of The Hidden Millionaire: Twelve Principles to Uncovering the Entrepreneur in You, the inspiring first book from Anthony Morrison.
Anthony Morrison is already a well-known public figure, and his story echoes American success stories throughout the ages. When he was a junior in college Morrison, with his family facing financial ruin, launched his first business on the Internet. Armed with a pad, pencil and cell phone and while continuing to study pre-med fulltime, Morrison built that enterprise, Cool Blue Performance, into an industry stalwart.
Inspired, Morrison over the next three years launched eleven additional companies, and each of them became hugely successful as well. Today, at just twenty-five years old, Anthony Morrison shares his pioneering techniques at seminars across the country and starts each of his students in their own Internet-based business before they leave class.
"There are millions of potential entrepreneurs out there, and with my Twelve Principles and some one-on-one instruction each one of them can find their own niche in the economy," says Morrison. "Principles can be taught and skills can be transferred to others. All my students need to bring to the table is the enthusiasm and energy required to work for themselves, and I'll supply the rest."
The Hidden Millionaire tells Morrison's story, incorporating into each chapter life lessons for the aspiring entrepreneur. Always an inquisitive and forward-thinking child, Morrison typically found ways to earn what he wanted, from the candy sales that purchased a Jacuzzi for his family when he was just seven years old to his highly profitable baseball memorabilia business in his early teens, Morrison was always seeking the next challenge. The collapse of his father's savings in the WorldCom fiasco prompted Morrison to start his first business in college, and since then his prodigious business acumen has made him a icon on the seminar circuit, as well as highly-respected educator on the profits and perils available to the aggressive entrepreneur.
"I've always pursued ideas that interested me, and the money has come incidentally," says Morrison. "If you have an entrepreneur's passion, I can teach you the skills that transform that passion into profits."
Anthony Morrison splits his time between life on the road and his family home in Mississippi, where he enjoys the company of his loving family and friends.