About the Author, Anthony Morrison
Part memoir, part inspirational guide, The Hidden Millionaire tells of Anthony's fearless spirit and initial forays into the world of business, but there's more, because Anthony Morrison's story isn't merely inspirational; it provides real principles for guiding one's self through the trials and triumphs of entrepreneurial endeavors. The Hidden Millionaire provides the reader with access to Morrison's life story and insight into the means by which anyone can be successful as an entrepreneur. Anyone can tell you that you could or should be successful: Morrison tells you how.
Morrison breaks down his Twelve Principles of Entrepreneurship and tells you why they work. "It's certainly inspirational to hear a story of someone overcoming adversity, but unless the lessons learned can be applied to virtually anyone's life that inspiration will be fleeting," says Morrison. "I learned my Principles accidentally, but I teach them actively, and I know these Principles can have as profound an impact on the lives of others as they did in mine."
In The Hidden Millionaire, Anthony Morrison paves the way to entrepreneurial success and simultaneously provides readers with strategies for a more purposeful and fulfilling life.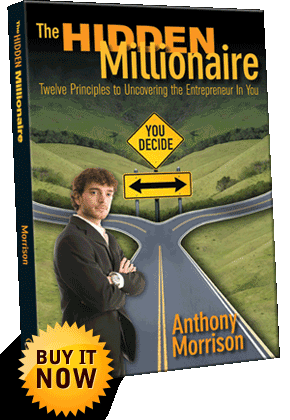 Anthony's book is not only inspiring but educational. The books was a great short read and I came away with a lot of valuable information.
- Jacqueline Yorke, Same Page Press